PIECE: RAGTIME VIOLIN
SECTION 6.14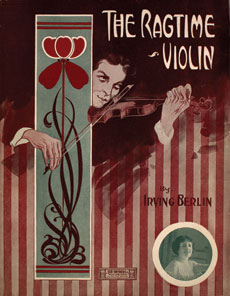 Fig. 6.15
The Ragtime Violin
Another composer who profited from ragtime was Irving Berlin (1888-1989). Berlin, the son of a Jewish cantor, was self-taught as a musician, and one of his first big hits was the 1911 song Alexander's Ragtime Band. Berlin had a very successful 54 year career as a composer. In addition to composing sheet music in New York, he also wrote music for stage productions and scored music for Hollywood movies. A few of his notable works include the music for "God Bless America," (he was awarded a congressional gold medal for this), the music for the musical "Annie Get your Gun" (1946), and music for movies such as White Christmas (1954) and There's No Business Like Show Business (1954). [142]
TECHNIQUE TIPS: Irving Berlin wrote Ragtime Violin in 1911, and scored it for voice and piano. This arrangement features an instrumental melodic part with accompaniment, and the light and bouncy syncopated rhythm clearly makes it in the style of ragtime. Notice how this arrangement begins with an up-bow—this is designed to help with the flow and rhythm of the piece. After you've played through the piece, as an experiment, try starting with a down-bow, and play the first line. See if you notice any difference in being able to musically express the syncopated feel of the rhythm when you start the piece with a down-bow instead of an up-bow.
Ragtime Violin (lyrics):
Verse 1: Mister Brown, Mister Brown had a violin, Went around, all around with his violin. Lawdy, how he play'd it, sway'd it, made it moan so beautiful; Anna Lize, Anna Lize heard his violin, Roll'd her eyes, roll'd her eyes at his violin, Lawdy, how he lov'd 'er, turtled doved 'er, When Anna would cry.
Chorus: Fiddle up, fiddle up on your violin, Lay right on it, rest your chin upon it, Doggone you better begin, And play an overture upon your violin; Hurry up, hurry up with your violin, Make it sooner, don't you stop to tune 'er, Fid, fid, fid, fiddle the middle of your ragtime violin.
Verse 2: Mister Brown, Mister Brown at a fancy ball, Sat around, sat around, sat around the hall. Wouldn't take a chance to dance, because the band was terrible; Anna Lize, Anna Lize hit upon a plan, Roll'd her eyes, roll'd her eyes at the leader man, Took his fiddle down to Mister Brown, to Just kiss him and cry. (Chorus again)
© Copyright 2023 RK Deverich. All rights reserved.
*Although this online cello class is provided free of charge, all rights are reserved and this content is protected by international copyright law. It is illegal to copy, post or publish this content in any form, and displaying any of this material on other websites, blogs or feeds is prohibited. Permission is given for individual users to print pages from this website for their personal, non-commercial use.